WHAT OUR CLIENTS ARE SAYING ABOU​T THEIR EXPERIENCE WITH OUR FITNESS AND TRAINING PROGRAMS
Marisa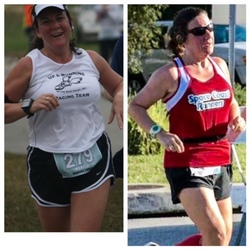 As a runner, I started boot camp with Michael four years ago to work on my core and upper body, which is often a weakness in runners. Michael's boot camp has given me total body conditioning and strengthening, and at age 50 I feel stronger and fitter than I was in my 30s.

---
| | |
| --- | --- |
| Julie | I started a boot camp with class with Mike 4 years ago. I had been working out on my own and was just bored doing my own thing and needed something different. Well it's been 4 years and I'm hooked ;-) It has improved my strength and stamina and improved my muscle tone. I like the combination of strength training and cardio in the 1 hour and enjoy working out with a group as it makes me work harder. Mike makes sure you use good form, which is important and pushes you to give it your all. The workouts vary, which I like and is a great kick start for my mornings! :-) |
| | |
| --- | --- |
| Marianna | Mike is simply the best. I have been working out with him for 4 years and am in the best shape I have ever been. He makes boot camp challenging and fun at the same time. |
Chrissy

I've been training with Mike who is very knowledgeable on fitness for 4 years. Mike has made a specific workout plan for my physical levels throughout the years. My son was injured last year and Mike was able to build his strength and stamina while unable to bear weight on his ankle. Not only do I faithfully attend his boot camp class I have had him train me.
​
Why do I keep coming back? Results, consistency, improved fitness level, motivated, positive environment, and Mike is pretty likable.
| | |
| --- | --- |
| Natasha | Most of us myself included have looked in mirror and decided now is the time to join a class whether to lose weight or just get fit, only to fizzle out after a few months. I am in my forties so I have done this one too many times. I have been taking Mike's classes for four years now, three times weekly. His classes are continually changing so I never feel like I've gotten to a plateau, he always raising the bar and pushing you. He treats each of us individually and caters to each person abilities; it is like you have your own person trainer not just another class. I have had periods of injury or lack of motivation and missed a class, he always checks in personally and gets you back on track. He makes you accountable. My overall health has greatly improved and I will continue to attend as alone I could not ever accomplish what I do in his class. Highly recommend to everyone from the regular gym person to the newbie. |